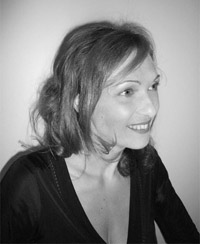 ROSE BECK stands out as a unique handbag brand among modern Viennese designers.
ROSE BECK is marked by elegant, classic design, and yet her creations are also distinctly three-dimensional works made from often unusual kinds of leather that is always of the highest quality.
ROSE BECK studied design in the leather class at the Vienna Fashion School Hetzendorf. She started her own label ROSE BECK in 1996. Her creations are full of originality and are, as mentioned above, by no means flat but rather something like sculptures in their own right. There is a flexible, feminist spirit about these bags; they are meant to get women through their everyday lives, so the design is very functional, practical, and adapted to the working woman's lifestyle.
Not only are ROSE BECK's handbags designed with an awareness for originality and contemporary style, but each one is also given a classical, intelligent, and noble finish. ROSE BECK can do this because she has know-how and expertise when it comes to leather and leathercraft paired with an unerring understanding for current fashion. Her excellent sense for balancing these two skills keeps her from settling for conservative designs or thinking that a knowledge of fabrics and fashion is enough to design leather accessories too. You only have to touch one of ROSE BECK's handbags to feel the difference.